With the lead of Oji Holdings, the Oji Group, of which Oji Paper is a part, operates in diverse fields such as industrial products used in automobiles and electronic devices, the resource environment business aiming at the effective use of resources and products closely related to social life such as paper, tissue, diapers, and packaging.
Oji Paper handles paper products used as information transmission media such as newsprint, printing & publication paper and communications paper as the core of the "Printing and Communications Media Company" of the Oji Group. We strive to develop new products and technologies that meet customer demands, create new value and enrich society.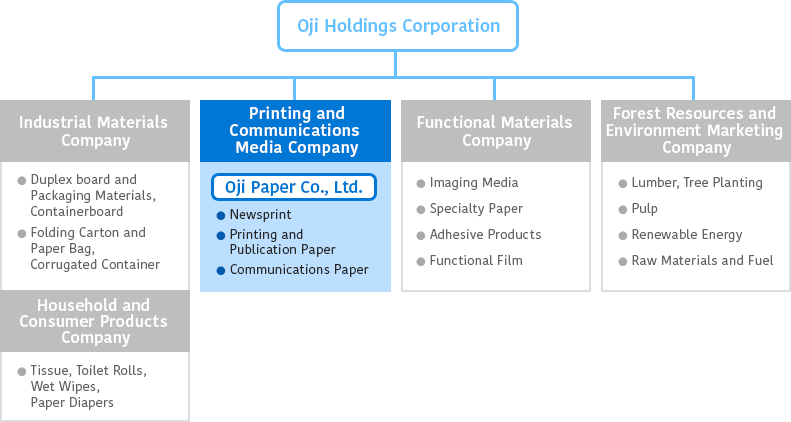 Newsprint must have the strength to withstand high-speed rotary press printing and printability for a beautiful finish in color printing. We hold approximately a 30% share of the Japanese market for newsprint and makes ongoing efforts to enhance quality in response to the needs of newspaper companies throughout the country.

Publication paper used in books and magazines and printing paper used in catalogs and leaflets requires varied levels of quality according to the planning and particulars of the final product and the characteristics of the printing equipment. We continuously develop products to meet the needs of the times and supply the high-quality products demanded by customers.

In addition to conventional forms and Copier paper (PPC), we are developing various new products such as highly functional printing paper for print on-demand (POD) printing. These products are used for diverse tasks in a wide range of industries as information processing system input media.